It's mid-November and the malls are decked with boughs of holly and Christmas music can be heard over the bustling of shoppers. Around this time of year, I've made it a tradition of sorts to get the majority of my Christmas shopping done before the first week of December because:
Canada Post gives you a deadline if you want your gift to arrive at the destination before Christmas Eve and it's usually the first week of December.
I loathe crowds.
Line-ups are the bane of my existence. For the most part, I know what I'm looking for, so I just want to get it, buy it and get out.
I would rather do my Christmas shopping early and relax for the month of December. Then, I can really get into the festive spirit if the season. Preferably with Bailey's in my cup of eggnog.
Now, shopping for gifts inevitably leads me to think about what I would like to see under the Christmas tree for me and here are a few things I have in mind:
bareMinerals The Regal Wardrobe Eye and Cheek Palette is a great for someone who wants almost everything in one place. You have a good selection of eye-shadows, a highlighter/bronzer and 2 blushers, all housed in a thin compact palette with a mirror for $53 at
Sephora.
All you need is mascara and lip gloss or lipstick and you're set.
Image from www.temptalia.com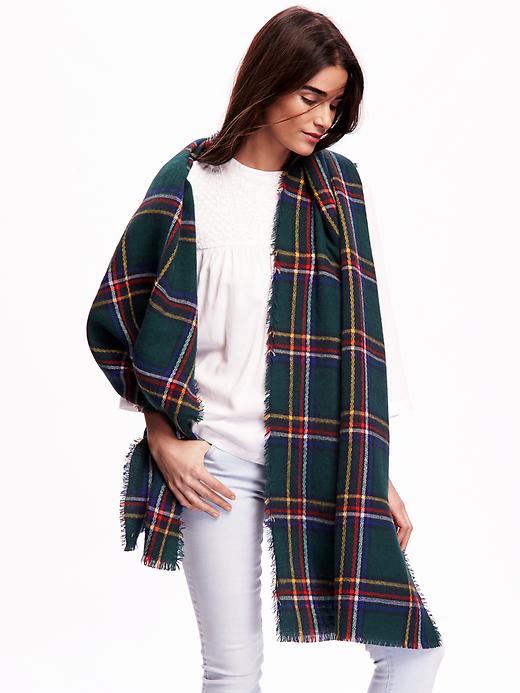 It's winter and there's a chill in the air, so who doesn't need (another) scarf? This brushed flannel scarf is in a classic plaid print and will keep you warm and stylish in the cold. Find it at
Old Navy
for $24.94 or wait until they have a sale and get it for less!
Image from Old Navy.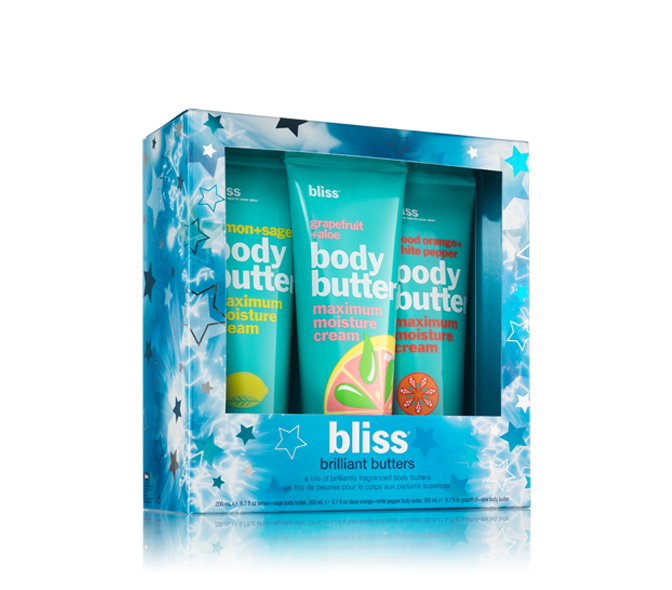 No one likes dry scaly skin and this stuff really gives you smooth, soft skin. I'm particularly fond of the grapefruit+aloe but the lemon+sage and the blood orange+white pepper are wonderful as well. These are also work well as hand creams and would make a great stocking stuffers. You can find this holiday gift set at
Sephora
or at
blissworld
for $45.
Image from www.blissworld.com
The Body Shop always have an excellent selection of holiday gift sets from varying price points, ranging from their classic scents to limited edition scents. I got the glazed apple and frosted cranberry hand creams last year and LOVE them. Their
holiday sets
start at $10 and up.
Image from thebodyshop.ca
Fragrance is definitely a personal choice and can be tricky to buy for someone, which means rollerballs are a incredible idea. You can dabble into different scents without making a big commitment. Byredo parfums are new to me but so far, I like what I'm smelling. Blanche and Gypsy Water seem to be the popular ones but, I like Bal D'Afrique for myself. You can find the Byredo parfums at Holt Renfrew for $120 to $235 or at Nordstrom.
Image from Holt Renfrew.
Bose Quiet Comfort Noise-Cancelling Headphones are a lifesaver when travelling. Especially when you're in Economy class on a 11-hour flight with four crying babies sitting around you.
FOUR. CRYING. BABIES. I was so glad I was able to borrow a pair from a friend for that trip. These headphones are pricey at $329.99, but worth every penny and can be found
here
. The one shown above are in the colour Triple Black and look very sleek.
Image from www.bose.ca

Saint Laurent black quilted monogram chain wallet with the glossy black hardware is gorgeous. It's something that I've had my eye on for months now. It's a whopping $1635 on
ssense
and maybe if Santa is paying attention, I might find it wrapped under the tree come Christmas Day....
Image from ssense.